81.79% Rise in E-commerce Conversion Rate & 515.76% Increase in Organic Revenue
Client:
Alpino Health Foods is a leader in the peanut butter category and has recently expanded its product offerings to include a wider range of nut butters and healthy spreads in India. They recently made an appearance on Shark Tank India.
Problem:
Alpino Health Foods had not invested in any prior SEO and as a result, their conversion rates were declining.
They wanted to increase their organic reach and improve the overall conversion rate on their website.
The brand was performing well on external e-commerce platforms, but sales from its website were not at the desired level.
The client had a <2.0% conversion rate on their e-Commerce site before starting the CRO campaign.
Solution:
A CRO audit was conducted and several critical design and technical issues were identified on the client's e-Commerce website.
To make informed decisions, we started by conducting deep data research using Google Analytics 4's 'Explorer' tab. However, we found that data was not properly tracking.

A fresh GTM was set up with GA4 to track the most important e-Commerce tracking events, allowing us to create more data-driven explorations like Funnel Explorations, Segment Overlaps, and Free-form reports.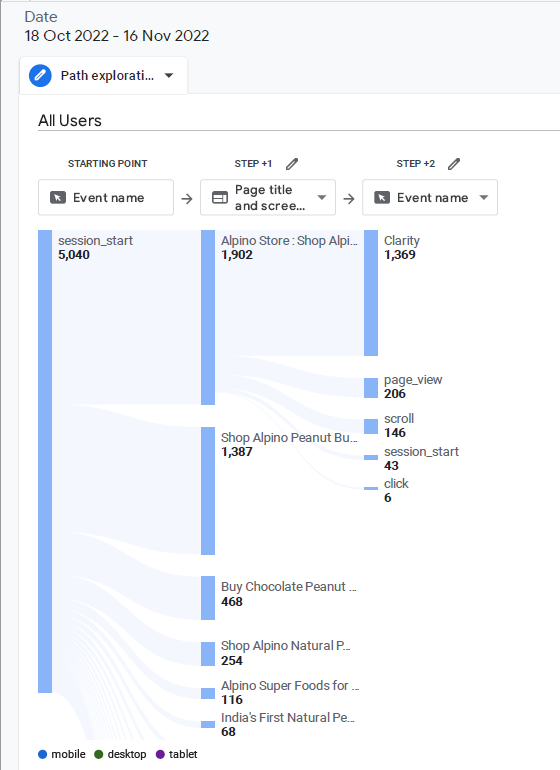 On the design side, we made changes such as changing the font style, tweaking sections on the Product page, adding authority badges, and addressing other common issues found on e-Commerce sites.
We also improved some metrics on the technical side, such as LCP, FCP, TTI, and other essential points.
SEO experts from our team were also brought in to improve the website's search engine optimization. This included adding a Star Rating (Aggregator Schema) which positively impacted CTR, fixing title & metas, H1 issues, and providing article topics based on deep research.
Phases 1:
Deep data research was conducted using GA4 and all necessary data points and metrics were gathered.
Based on the research, design ideas were prepared and implemented on the website.
Phase 2:
The website's performance was monitored over several days.
The client was presented with a complete content plan for SEO.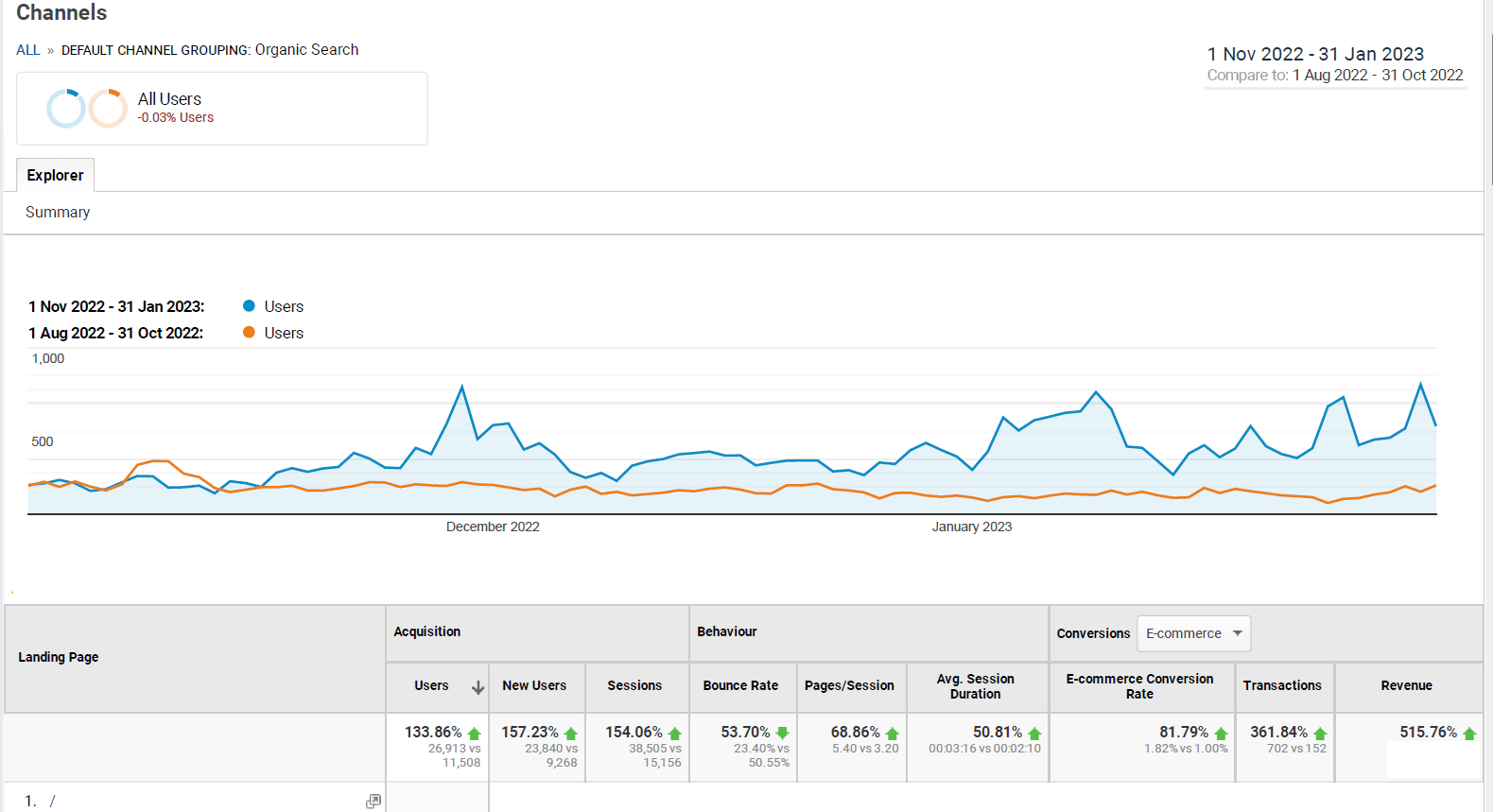 Results:
The results of our efforts were remarkable, with several key metrics showing significant improvement:
Organic Channel Growth: The organic search traffic increased by 133.86%, with 26913 organic visitors in 3 months compared to 11508 organic visitors over the previous period.
Bounce rate decreased by 53.70%, going from 50.55% to 23.40%.
Average Session duration increased by 50.81%, from 2.10 minutes to 3.16 minutes.
E-commerce Conversion Rate increased by 81.79%, from 1% to 1.82%.
Organic transactions increased by 361.84%, from 152 transactions to 702 transactions in 3 months.
Organic Revenue increased by 515.76%.
The average CTR in the search console went up from 1.4% to 3.7%, and the total number of clicks went up from 13.3k to 34.6k, representing a growth of 160.15%.
The overall e-commerce conversion rate (including paid traffic channels) went up 47.85% from 1.65% to 2.44% in 3 months.
These results demonstrate the effectiveness of our approach, which focused on deep data research and implementation of design and technical improvements. The improvements in organic traffic, conversion rate, and revenue show the positive impact our efforts had on Alpino Health Foods' e-commerce performance.